Date
Jun 25, 2015 - Jun 25, 2015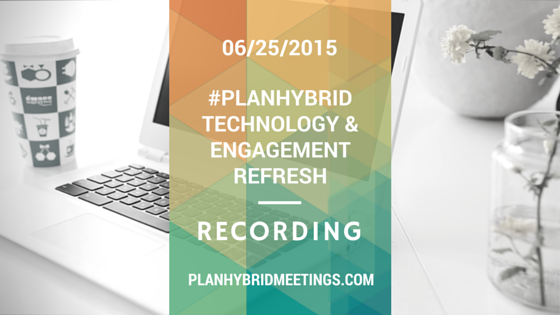 #PlanHybrid Technology & Engagement Refresh
Session recorded live on June 25, 2015
Meeting and event professionals are always looking for new and creative ways to engage their attendees while driving networking opportunities. How do you ensure you are meeting the needs of your in-person and virtual attendees? Do you use separate techniques for both audiences?
Join our session as we focus on:
Choosing the right technology to increase engagement and networking opportunities
Best practices in engagement techniques for hybrid meetings
Technology considerations for hybrid meetings
The evolving requirements of supporting multiple audiences
CMP-IS Domain G: Meeting or Event Design, 1 CE
Speakers:
Starting in January 2015, PlanHybridMeetings.com became a CMP preferred provider and you must attend LIVE in order for your attendance to be synced with CIC and your CIC profile. Otherwise, you can use your email confirmation and self-report. For more information about the CMP credential or CMP Preferred Provider Program, please visit www.conventionindustry.org.