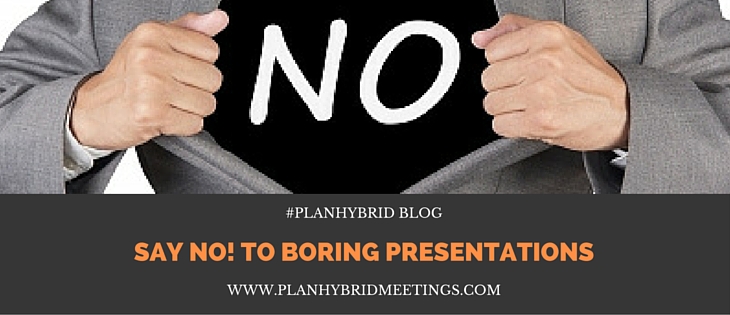 Say No! to Boring Presentations
Going hybrid with your presentation doesn't have to imply going "boring".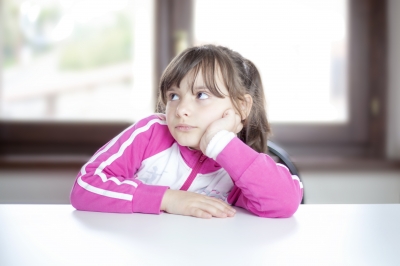 Many speaking professionals, however, still deliver the absolute minimum when it comes online presentations ie a one hour audio and Power Point lecture – kill me now.  Unless your remote audience is chained to their desks or have a chance to win a car by making it to the end of your broadcast, by and large they are not going to stay along for the ride no matter how much you think your content is interesting.  Ok, enough negative talk, let's turn this around and chat about what you can do to engage your listeners.
First and foremost, when creating your presentation allow sufficient time to interact with your audience.  When creating your presentation allow sufficient time to interact with your audience. Click To Tweet Many folks rely on platforms that have all of the bells and whistles to include viewer participation but alas end up apologizing for not having enough time to field questions.  This is not acceptable in my opinion and conveys that your time is more valuable than theirs.  Too strong?  Perhaps but you get my point.  Your viewers set aside time in their hectic calendars because they want to exchange ideas with you otherwise they would simply watch the recording at their convenience.  Now if you are still with me, let's discuss some of the passive and active approaches to keeping your viewers locked on you for your entire presentation.
My interpretation of passive participation refers to when an audience interacts with one another during a session through using Twitter, or Chat software, etc.  These tools are a very efficient way to find out if your audience is alive and well or disappearing fast and remember, one of the key benefits of hybrid meetings is enabling people to interact from dispersed geographical regions so if you have the technology don't discount the opportunity to use it.  If you are comfortable with these tools you can take it up a notch and use them to engage with your participants.  By simply acknowledging their comments, you have now brought them into the conversation.  Believe me, they appreciate the recognition and affirmation that their feedback isn't being transmitted into thin air.  If your group is small you have the flexibility to adjust your delivery to suit the flow of the dialogue which again scores points in your favour.  Let's look at other ways you can transform your audience from passive listeners to active participants.By acknowledging the comments, they are now part of the the conversation. Click To Tweet
One way to wake your folks up immediately is to take a poll shortly after your introduction to find out who's online with you.  Industry and interests are safe areas to poll whereas age and gender are just about irrelevant factors for most discussions.  Taking polls intermittingly throughout your presentation will keep them involved but more importantly provide you with a measuring stick as to what your listeners want to talk about.  You may have thought you were preaching to an intermediate level group only to find out that they are real newbies!  Electronic voting is also on the rise.  Organizations are saving big bucks using electronic keypads for in-person conferences as it's cutting down on the time and effort to get the job done.  No more fancy buffet dinners are required because the paper voting is taking so long.   Now combine these keypads with web based voting software that compiles both in-room and remote results in real time and you've got a winner.  Online forums are also trending for large organizations undergoing transformation due to new strategic directives.  These forums gather input from all stakeholders before, during, and after events and do an excellent job and building consensus based on the information collected.
There are many more online tools available for engaging smaller groups and I encourage you to build up the courage to try them in a live environment if you haven't already.  Invite users to join in via audio, video, and even let them take over your screen once and while in support of collaboration.  I appreciate some people will need to be cut off but that's a reality just as it is for in-person events when someone prefers to listen to their own voice rather than the expert at the front of the room.  Inviting discussion requires excellent moderation skills so be prepared.  As you can see, there is a wide spectrum of ways in which you can engage your remote audience when delivering a hybrid presentation.  My advice would be to run with it much like you would if you had to host a dinner party.  Keep the conversation going because silence is deadly.  Keep the conversation going because silence is deadly. Click To Tweet
How do you keep your audience engaged? What strategies do you use to ensure your speakers are giving great presentations? Please share your thoughts by leaving your comments below.